If you would LOVE for areas themed to Coco, Encanto, or even Zootopia or the Disney villains to be added to the Disney World theme parks, you might be in luck!
During the 2022 D23 Expo, some Disney executives discussed a few Blue Sky ideas they're working on for the parks. These are things that could come to the parks — a.k.a. they're NOT officially confirmed and they could change substantially (or never even get built), but they are things Disney is working on. Mainly, they discussed a potential Moana and/or Zootopia re-theme for DinoLand U.S.A. in Disney's Animal Kingdom Park and new Coco, Encanto, and Disney villains-themed spaces beyond Big Thunder Mountain Railroad in Magic Kingdom. If you've seen the concept art you might already be really excited about these possibilities, but we took out our microscope and now we're highlighting the details in these that you NEVER noticed!
Blue Sky Disclaimer
Before we dive into the concept art, we do want to note, again, that these are Blue Sky ideas. That means they're in the early stages of development and have only been teased (not confirmed) for the parks.
Disney described these as "early concept explorations for Dinoland U.S.A.," "potential expansion opportunities…at Magic Kingdom Park," and "creative 'what if' ideas." In other words, take all of this with a grain of salt. What you see in this concept art may never come to be, or it may come to the parks in a very different form.
Josh D'Amaro, the Chairman of the Disney Parks, Experiences, and Products did say, "We are not up here daydreaming. It's important to me that you know that these things…they are very real." So while they are in the early stages of working on these projects, D'Amaro does seem to indicate that they are truly taking these ideas seriously.
So just what does the concept art potentially reveal? Well, we zoomed in REALLY close and have some thoughts!
DFB Disclaimer
We looked at this concept art closely — reeaaalllly closely — we put on our glasses and really zoomed in. We looked at some movie screenshots and we even found some oddly connected Disney posts from 2019 and 2018. We may or may not have embodied this GIF.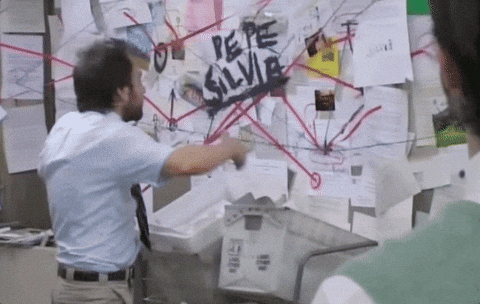 But things can look different to different people, and concept art is just that…a concept. So take our own discussion below with another grain of salt. We're sharing what we see and what we think we can maybe see in the concept art, but none of the little details have been officially confirmed by Disney.
Magic Kingdom Expansion
Here's a full look at the concept art for the potential Magic Kingdom expansion, which could bring lands themed to Coco, Encanto, and the Disney villains beyond Big Thunder Mountain Railroad.
Starting with the bottom of the concept art, it looks like we're being transported into the town of Santa Cecilia from Coco. There is a fountain at the bottom center of the art, with some people strolling around a central area in front of it, and homes surrounding it.
There also appears to be a covered area, like a gazebo of sorts, in the upper area of this little square.
This whole area, including the gazebo, seems reminiscent of the Mariachi Plaza scene near the beginning of the movie.
There are a lot of possibilities here. There could be meet-and-greets tucked away in some of these spaces, merchandise shops within the buildings surrounding the plaza, a restaurant perhaps, or even some kind of live performance done in the plaza within that gazebo.
Moving beyond this space, toward the upper left-hand side, we see a grassy area with an upward incline and a few different buildings and objects.
The big building toward the back seems somewhat reminiscent (though not identical) to the tomb of Ernesto de la Cruz, the movie's famous villain.
If that is the case, then the remainder of this green space surrounding that building could be the cemetery seen in the movie, which becomes a central part of Miguel's story and the entire celebration of Dia de Los Muertos.
Disney has dipped its toe in cemeteries before (we're looking at you — Haunted Mansion) so it's possible this could be themed to the cemetery in the film. Those shadowy objects could be tombstones, with the smaller buildings serving as larger tombs. It would be interesting to see just what Disney would do in this space — maybe an Ernesto de la Cruz meet-and-greet in skeleton form? Could this be "too spooky" of a space for fans who maybe aren't all that fond of walking through cemeteries? Will it be more of a background space seen but never walked through? We'll have to wait to find out — that's if this space ever truly becomes a reality, of course.
Then we hop to the right-hand side of the concept art. From the Coco plaza, it looks like there may be a series of buildings/a walkway that eventually leads guests into the world of Encanto.
The central thing you can see here is the Casita — the home of the Madrigals. During D23, one Disney executive did discuss how cool it would be to go INSIDE the Casita, meet the Madrigals, check out those epic rooms, and maybe even open your own door to discover your gift. So if there is some kind of attraction or experience in this space, it does seem like it would likely be located within the Casita.
Around it, you can see what might be smaller buildings, but it's not totally clear. Perhaps there will be shops, restaurants, or other seating/meet-and-greet areas nearby?
Finally, the back of the concept art shows the villains land that could also be added to this space. It looks like that path from the Coco plaza could connect to a central area that branches off to the right to Encanto and straight ahead to the villains.
It also looks like there could be some kind of big gate-like structure forming the entrance of this villains-themed land, with large bushes, trees, or other landscape blocking it off from the other areas.
There appear to be some spires/buildings in the distance, with one big one popping up right in the center. That back structure looks similar to Maleficent's castle on Forbidden Mountain.
It's interesting because back in 2019, the Disney Parks Blog released a doodle of Maleficent taking over the Disney mountains. In that post, they shared a quote from artist Ashley Taylor who said, "Maleficent resides in the Forbidden Mountains…It's easy to imagine her and her goons trying to take over all of the mountains at Magic Kingdom Park." Hmmmmmm…considering that her area would potentially be located behind one of the park's most iconic mountains, Thunder Mountain, this all seems very interesting!
The remainder of the area appears to just be enveloped in a green haze, with some kind of swirling formation at the bottom near Casa Madrigal.
In the far background, there is possibly a figure that looks a bit like Chernabog from Fantasia.
Interestingly, back in 2018 Disney also released a doodle imagining what would happen if Chernabog would do if he visited Disney World. The artist imagined that Chernabog might want to seek out a tall vantage point like…Big Thunder Mountain Railroad!
Seriously, there is just TOO much of a coincidence here!
DinoLand U.S.A.
Next, let's look at the DinoLand U.S.A. re-theme concept art. This concept art actually reveals a LOT more than the Magic Kingdom art does.
Starting at the bottom left, you can see a path around a big lake/water area. It looks like there is a platform leading potentially from the walkway toward the giant sail with Moana's symbol on it. It looks like what you're walking to is meant to be a sort-of giant boat (you can see the bottom of the boat below that platform). This could be the loading or unloading area for a boat ride perhaps. It looks like there is a boat coming in to potentially unload guests near the platform, and another boat heading off (likely at the start of the ride) toward a break in the waterfall in the distance.
What's even more exciting is it looks like this is a boat ride with a DROP! To the left, you can see boats coming down that drop. Behind the drop, you see a vast, green, hilly/mountainous landscape that likely covers whatever buildings are used for the indoor portion of this ride.
Moving toward the center of the art, we see lots of foliage and a bridge that takes guests to another area. That area looks like it has some buildings with more domed roofs. These could be part of the queue for the ride, a shop, a restaurant, or many other things.
Moving to the bottom right, we see a big attraction again themed to Moana given the circular Moana symbols on the sails.
It looks like this would be a Dumbo-type spinner ride. You can see all of the vehicles, some at varying heights, going around a central building area, with water flowing over them (and potentially splashing the riders!) at certain points.
Given the structure of the building with the various pieces sticking out of it at multiple points, the many sails, and the overall sort-of brown color scheme, it looks like this could be themed to the Kakamora!
If a Kakamora animatronic or meet-and-greet is also in the works, we wouldn't be mad.

The other possible theme for DinoLand U.S.A. that Disney discussed is Zootopia. That appears to be reflected in the town in the distance (you can spot it in the concept art just a little further below), which does look like the Zootopia downtown skyline (depicted in the movie screenshot below).
It looks like there's a central path that connects the Moana space to the Zootopia one, with a building (the train station?) in the center. It also looks like there are some massive trees to the sides of the downtown, maybe representing the rainforest district?
Also, is it just us or does someone see a giant green creature or structure in the central pathway leading to Zootopia?
Maybe they're the palm trees from this scene?
And that's a breakdown of the concept art Disney has shared for these Blue Sky ideas. These are just our thoughts upon examining them — but what do you think? Tell us your thoughts in the comments and point out little details you spotted!
We'll continue to keep an eye out for more details and we'll let you know what we find. For more news, you can click here to see 5 HUGE news drops from Disney's biggest event of the year, or click here to see ALL of the opening dates announced for Disney World and Disneyland at the D23 Expo.
This is a lot of detail to take in, right? We've got a little fun break for you now – check out all the new, fun Disney-themed graphic tees and more in our merch store by clicking here!
Don't Miss Out on Any Disney Fun!
Order Your Copy of the 2022 DFB Guide to Walt Disney World Dining Today!
With more than 750 pages, the 2022 DFB Guide to Walt Disney World Dining is full of tips and planning tools developed by Disney World experts over 30+ years of visits. We've done the research for you, so you'll know just which spots will uniquely suit your family's needs!
With mini-reviews of every single restaurant, bar, lounge, kiosk and more; an entire chapter on the best snacks in Disney World; full Disney Dining Plan analysis (and how to get FREE dining); and a full chapter on discounts and deals; you'll have everything you need to plan your best vacation yet.
Click here to order your copy of the 2022 DFB Guide to Walt Disney World Dining E-book with code WDW2022 to save 25% off the cover price today!

Our guides are backed by a 100% money-back guarantee, so you have nothing to lose.

What details do you spot in the photos? Tell us in the comments!
The post What's HIDING in Disney's Teased Coco, Encanto, Moana, Zooptopia, and Villains Lands first appeared on the disney food blog.